Apple is no longer the world's biggest wearables brand
By Tom May about 8 hours ago
Xiaomi takes the top spot. But does it matter?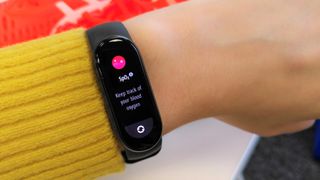 The Mi Smart Band 6 has been a big driver of Xiaomi's sale growth (Image credit: Future)
Hot on the heels of trumping Apple's smartphone sales, Xiaomi has now become the number one seller of wearables worldwide, bar none.
According to data from market analysts Canalys, Xiaomi has pushed Apple into second place during Q2 of this year, both in terms of units shipped and market share.
This was a pretty close-run thing. Xiaomi shipped around eight million wearables to Apple's 7.9 million, and their market shares were 19.6% and 19.3%. But we imagine that champagne corks are still popping at the Beijing-based firm, as beating Apple at anything, at all, is a very big deal.
That's especially true given the closest competition are trailing behind significantly, with third-placed Huawei on 9.2% market share, Fitbit in fourth with 7.3%, and Samsung in fifth with 6.1%.