Share your best Raspberry Pi or Arduino projects
We were thrilled with your creative contributions last time we asked – a year on, we want to see what you've been making in 2016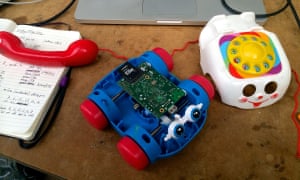 More than 10m Raspberry Pi units have sold since 2012 – and many of them, weknow, have landed in the hands of our ever-inventive readers.
When the Raspberry Pi Zero launched in 2015 we asked you to share the projectsyou'd been working on, but the past year has seen further development of thetechnology and exploration of its capacity – so, we're asking again.
After we published the results – including audiovisual and entertainmentprojects, educational tools and even festive ideas – many of you wanted tohighlight similar or alternative home project-enabling technology:
So we're happy to say we're also looking for anything you've been making withopen source electronics platform Arduino – or anything else you'd like to tell usabout.
Whether you have pieced a Pi or Arduino-based system together from scratch as afun joint project with the kids, or breathed life into some older tech you had lyingaround, contribute your stories and photographs and we'll gather together someof your success stories – or even tales of woe.
You can share your pictures and stories by clicking on the blue 'Contribute'button on this article. You can also use the Guardian app and search for'GuardianWitness assignments' – add it to the homepage to keep up with all ourassignments.
GuardianWitness is the home of readers' content on the Guardian. Contributeyour video, pictures and stories, and browse news, reviews and creationssubmitted by others.